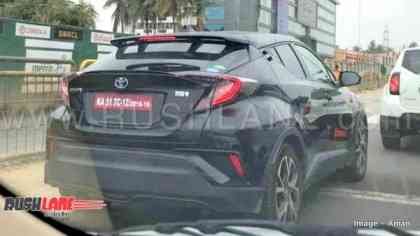 Toyota's smallest crossover, the Toyota CH-R, is the most flamboyantly designed crossover the automaker has designed. The automaker is well known for taking design risks. The Toyota CH-R is a product that stands alone for its unique sense of style. Measuring just over 172.6 inches long, the Toyota CH-R is designed in the right size for floating in cities where it can handle tight spaces very fluently. 

This vehicle is a tad larger than micro SUVs such as the Vitara Brezza, Hyundai Venue, etc. The car plays in the same space as liveable proportioned to subcompacts like the Kia Seltos and Hyundai Creta.
The CH-R is styled to emulate the form of a two doomed coupe. With a slope like a roofline, camouflaged Rear doors, and an aggressive look, the CH-R is completely extraordinary. Although having a sporty look, the CH-R delivers a luggage space of 37 cubic feet with folded rear seats. The Toyota CH-R is far behind the Honda HR-V, which gives a space of nearly 59 cubic feet and, in contrast, Kia Seltos exceeding up to 63 cubic feet.
Apart from looks and spaces, let's chat about the engine and the output it offers. The company offers the Toyota CH-R in wide trims. Initially starting with the 2.0 litre naturally aspirated petrol engine, which can produce 144 hp of maximum power and 188 Nm of peak torque. A CVT gearbox accompanies the engine.
However, the variant that was spied in India getting tested was the 1.8-litre petrol engine accompanied by electric motors. It produces 122 hp and is installed with a CVT automatic gearbox. It is highly unexpected that the company would bring the 2.0 litre naturally aspirated petrol engine in the country as it would not be cost-effective for Toyota. The 1.8-litre variant that they are utilising is shared with the Prius. 

The competition to the Kia Seltos will be 4.3 metres in length and will be based on the DNGA platform of Toyota. This variant is expected to have a power of the 1.5 litres naturally aspirated petrol engine that has been projected in other Maruti Suzuki automobiles. The engine can produce a maximum power of 103 bhp and 138 Nm of peak torque.
Nonetheless, this minibeast wins back many points with the sheer richness of its extravagant features. This specimen consists of LED headlamps, six-way adjustable seats, dual-zone automatic climate control, Apple CarPlay, Android Auto, an eight-inch Touch-screen Infotainment system, Amazon Alexa and Sirius XM satellite radio.

Conclusion
As of now, this is the basic set of information we can convey. As we don't have any knowledge of which variant the company would release in the country. Currently, we have been spotting Toyota testing its kids nowadays. Let's wait and find out how the company surprises its audience.