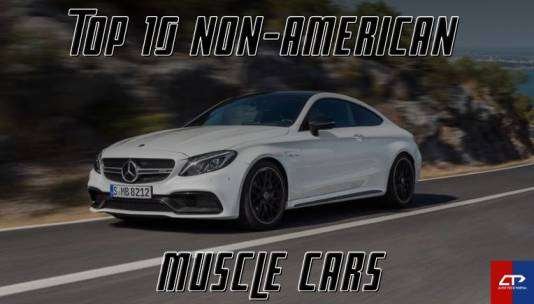 Amazing muscle vehicles are well-known worldwide. Whenever "muscle vehicle" is mentioned, America has always played a role. In the 1950s, automakers began equipping their mid-size cars with V8 engines, ushering in the muscle car age. The term "muscle car" was initially used in 1966 to describe a group of two-door sports coupes built in America with strong gas engines for high-performance driving. The first muscle automobile ever made was the Pontiac GTO. The muscle car market has seen a significant contribution from America. Numerous foreign automakers began producing muscle vehicles alongside American automakers. They made some incredible muscle vehicles. Here is a list of Top 10 Non-American Muscle Cars That You Will Fall In Love With.
10. Aston Martin V8 Vantage 
The Aston Martin V8 Vantage ruled the hearts of the populace in the late 1970s. The V8 Vantage's look inspired American muscle vehicles. It had a strong V8 under its hood and a bold muscle car aura. It has a 5.3-litre or 6.3-liter V8 engine that generates between 390 and 450 horsepower. With a sprinting speed jumping to 60 mph in a time of 5.3 seconds and a top speed of 170 mph, the V8 Vantage was dubbed the "British First Supercar." Its engine was modified for increased performance using a Lagonda engine.
9. Alfa Romeo Montreal – Top 10 Non-American Muscle Cars
Alfa Romeo is a muscle coupe that debuted as a concept model in 1967. People found its design to be quite appealing. Everyone admired it. It had a 2.8-litre DOHC V8 engine with a 7,000 rpm redline. Sadly, Alfa Romeo cancelled it since it could not compete in the American market. Ironically, Alfa Romeo Montreal was not offered for sale in Montreal as it was only available in European markets.
8. Vauxhall VXR8 
From 2007 until 2017, the Vauxhall VXR8 performance vehicle was manufactured. HSV Clubsport (2007–2017) and HSV GTS served as its foundations (2010-2017). Early versions of it had a 6.0-litre V8. It had 411 horsepower. Updated later to a 6.2-litre LS3 V8 producing 425 horsepower. It has a peak sprint of 155 mph and a 0-60 time of 4.2 seconds.
 7. Holden Monaro GTS 327 – Top 10 Non-American Muscle Cars
The rear-wheel-drive Holden Monaro is a coupe. It was produced in Australia by General Motors Holden. From 2001 to 2005, it was resurrected after being produced from 1968 to 1975. There were only 6147 Monaros made. A vintage Holden Monaro might bring in up to $1 million. It has some historical significance. It has a 5.4-litre engine and a 4-speed manual transmission. Monaro had a horsepower output of 250.
6. Ford Falcon Cobra 
Although an Australian Ford produced this Ford Falcon Cobra to compete in the Australian muscle car market, we know that Ford is an American company. It stands alone in the crowd as a piece of art. In 1987, the Falcon Cobra made its debut. It was a muscle vehicle in limited supply based on the XC Hardtop. Coke bottle styling was featured on the Ford Falcon Cobra. Driving was also a lot of fun. Powered by a 5.8-litre V8, the Falcon Cobra.
5. Aston Martin Victor – Top 10 Non-American Muscle Cars
The Aston Martin One of the most uncommon Aston Martin is Victor. Victor Gauntlett, a former executive chairman of Aston Martin, is the person whose name the company bears. It was based on One-77, which is also quite uncommon. These were only produced in 77 units by Aston Martin and went on sale in 2020. It is a great, stylish muscle car. This stylish muscle car's 7.3-litre V12 Cosworth tuned engine generates 836 horsepower.
4. Mercedes- AMG C63 
Mercedes' performance arm is called AMG. It creates conventional Mercs and turns them into a beast of performance. The hand-built twin-turbo 4.0-litre V8 engine in the AMG C63 generates 469 horsepower and 479 lb-ft of torque. Combined with its powerplant is a nine-speed automatic transmission. It drives its rear wheels with all of its power. In 4.0 seconds, it goes from 0 to 60. Based on the W205 C-Class.
3. Jensen Interceptor – Top 10 Non-American Muscle Cars
The West Bromwich Kelvin Factory is where the Jensen interceptor was made by hand. Although the Interceptor no longer exists, it gave rise to this incredible muscle automobile. It was manufactured from 1950 until 1957. The strongest engine choice for the Interceptor was a 7.2-litre V8, which was offered with both a 4-speed manual and a 3-speed automatic transmission. It functions more like a large touring car.
2. Opel Diplomat V8 
One of the largest automakers in the 20th century was Opel. One of the great vehicles they gave us was the Diplomat. Production of it lasted from 1964 until 1977. The Diplomat V8 was a fantastic car, but compared to comparable German vehicles, it felt underpowered. It has a 5.4-litre Chevrolet V8 engine that generates 225 horsepower, allowing it to reach high speeds of 127 mph and accelerate from 0 to 60 mph in about eight seconds. Driving it was a fantastic experience.
1. Mercedes-Benz 500E 
Mercedes and Porsche created the 500E. It is a W124 high-performance variant that was on the market from 1990 to 1995. Porsche improved the Mercedes W124's chassis to make room for the bigger V8 engine. It has a 5.0-litre V8 engine with 322 horsepower and 354 pound-feet of torque. It has a peak sprint of 155 mph and can accelerate from 0 to 62 mph in 5.3 seconds.
Conclusion
These beasts are a specimen in the whole car industry and have a separate fan base. Every car enthusiast has a separate interest in these machines. Seeing one, will give the eye an orgasm. Stay tuned to Auto Tech Portal for more automobile related content.
Also checkout Top 10 quickest Pickup Trucks Ever Made.