The 2023 Porsche Taycan places a high focus on having fun while driving, contrary to how sports car driving qualities are usually prioritised for electric automobiles. Porsche built a four-door vehicle with human contact in mind rather than automated, soulless transportation, using battery efficiency as an opportunity rather than an excuse. The Tesla Model S and Lucid Air comfortably outperform the Taycan's maximum EPA-estimated range of 227 miles. However, it still handles and accelerates as a Porsche should: with imperious confidence and authority. Every Taycan has a two-speed transmission, from the base model's 402 horsepower single rear motor to the ridiculously fast 750 horsepower Turbo S, to blend epic acceleration with a cruising range that exceeds expectations on the highway. The Taycan Cross and Sport Turismo, a wagon variation of this sedan, were also tested individually. The Taycan can charge at a pace of up to 270 kWh on a powerful enough DC fast charger, thanks to its 800-volt design. The characteristic Stuttgart driving experience is completed with a low-slung driving position and a 16.8-inch curved display.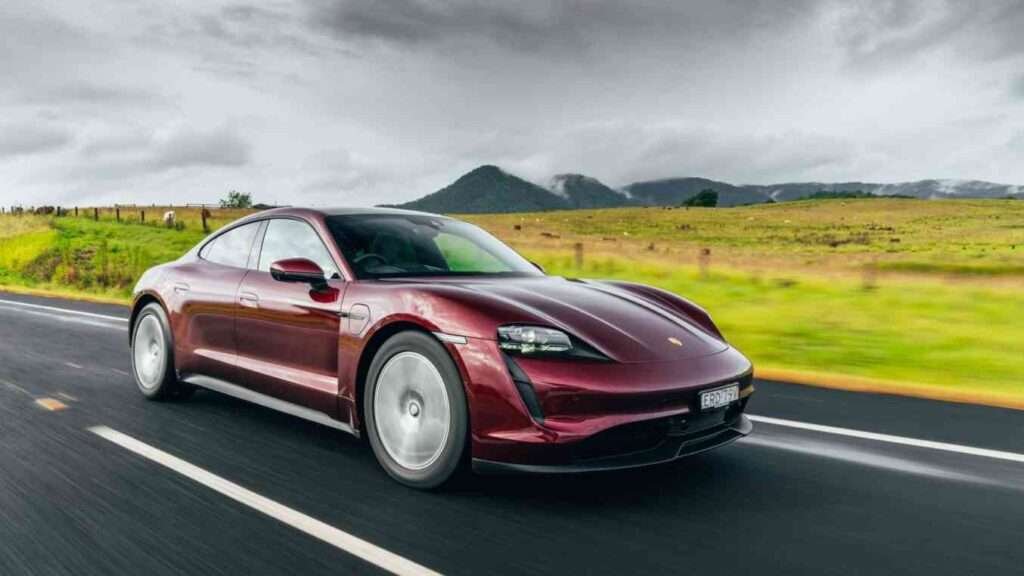 What's New in 2023 Porsche Taycan
With an upgrade to the battery and charging system that helps boost the vehicle's range and charging rates, Porsche turns up the heat on not just the 2023 Taycans but also for all earlier versions. According to Porsche, the Taycan will now preheat its batteries to a higher temperature, enabling the vehicle to charge to its maximum capacity of 270 kWh at a higher charge level. This also results in a little increase in overall range, although we're still awaiting the EPA's final rating. The infotainment display has also undergone redesigning, including wireless Android Auto, a more colorful and speedy user interface, and the option to restrict search results for charging stations using charging-station output. Porsche's Variable Light Control, which was previously exclusively an option for the Taycan GTS, is now available with every Taycan fitted with a panoramic glass roof. To better prevent scalp warming, the driver can switch the roof's transparency to opacity electronically. The 19-inch painted Aero wheels are no longer available.
Pricing
While the Taycan Turbo and Turbo S deliver performance on par with supercars, we'd suggest the Taycan 4S since it's more reasonably priced. A 522-hp powerplant, 19-inch wheels, an adjustable air suspension, a partially leather interior, and keyless entry are included with the 4S. We would forego Porsche's numerous customization choices to keep costs down. Still, we would upgrade to the Performance Battery Plus, which expands the pack and raises the combined horsepower rating to 562. The rear-axle steering and torque vectoring increase agility, the Sport Plus drive mode improves performance, and the active anti-roll bars increase stability. The Performance package is also essential since it makes driving the Taycan more enjoyable.
Power and Performance of 2023 Porsche Taycan
Most Taycan vehicles have two electric motors, one driving the front wheels and the other the back. They provide distinct outputs that differ based on trim level. With the lesser battery, the 4S produces 522 horsepower, and with the larger battery, 562 horsepower. The highest versions, the 670-hp Turbo and the 750-hp Turbo S include the large juicer as standard equipment. Depending on the battery capacity, the base model's horsepower ranges from 402 to 469, although it only has rear-wheel drive. The Taycan GTS, with its 626 pound-feet of torque and 590 horsepower, is the sweet spot. The unique two-speed gearbox in all Taycan models offers a thrilling shift under heavy acceleration.
The Taycan 4S surprised us during our test drive with its quick acceleration (reaching 60 mph in 3.4 seconds) and point-and-shoot handling. However, given that Porsche decided against one-pedal driving, we wished it had a more sensitive brake pedal. The Turbo S's rocket-ship takeoffs will astound anybody with an intense craving for speed. The one we tested completed the quarter-mile at 130 mph in 10.5 seconds and reached 60 mph in only 2.4 ticks. In Cheetah mode, a Model S Performance equaled that explosion to 60 mph; in acceleration, a Model S Plaid obliterated the Porsche.
The Taycan stands out among electric vehicles because of its fierce acceleration, low-slung driving stance, and precision handling. Furthermore, it is comfy. Another Taycan Turbo S we tested, although having 21-inch wheels and low-profile tires, never seemed harsh or rigid.
Range
The Tesla Model S can travel up to 400 miles on a single charge, whereas the Taycan's range is ordinary in comparison. Depending on the battery capacity and electric motors, the Porsche ranges from 199 to 227 miles. Each model has an 800-volt design that enables a 270-kilowatt peak charging rate. Porsche claims that models with the bigger battery can charge from 0 to 80% in 23 minutes, even though only 83.7 kWh of the 93.4 kWh pack are usable. But as we discovered in a comparative test, 800-volt DC fast chargers are uncommon, and peak charging speeds aren't beneficial. According to Porsche, charging at a 50-kW DC fast charger takes 93 minutes. 150-kW charging is an alternative to the regular 270-kW and 50-kW fast charging. During our eleven-car, 1,000-mile EV1000 rally, we encountered real-world charging factors.
Fuel Efficiency of 2023 Porsche Taycan
Up to 79 MPGe combined is claimed for the Taycan's most efficient model. The Tesla Model S Long Range is rated at 120 MPGe in contrast. The Porsche can achieve up to 84 MPGe on the highway, while the Tesla is capable of 115 MPGe. On our 75 mph interstate trip, we put the Taycan 4S with the big battery through its paces and recorded 65 MPGe. We ran the same test with a 2018 Model S 100D and recorded 91 MPGe. A 2020 Taycan 4S achieved 180 miles of real-world range on our previously stated highway test.
Interior
The Taycan's interior has a tech-heavy atmosphere. The design is purportedly straightforward and reminds us of previous Porsche models. As one might anticipate, the inside may be decorated with various luxurious materials and colour schemes. There is a broad list of deluxe features, such as heated rear seats, heated steering wheel, massaging front seats, and four-zone temperature control. The Taycan has regular 2+2 seating; however, a third seat can be added if needed in the back. The electric Porsche's back seating and storage capacity were sparse, and getting into the low front seat wasn't our favourite experience. But the vista is fantastic when you're driving.
Infotainment of 2023 Porsche Taycan
Although there are plenty of screens within the Taycan, there aren't many actual buttons and knobs. The infotainment system is managed by two centrally situated touchscreens and a 16.8-inch curved display for the instruments. The top one is 10.9 inches long and integrated into the dash. It gives users access to crucial features. Users may control the climate settings, check the battery level, enter navigational information, utilise wireless Apple CarPlay and Android Auto functions, and open and close the trunk and charging ports using the 8.4-inch touchscreen located underneath it. The front-seat passenger may choose between an additional 10.9-inch touchscreen and a 5.9-inch touchscreen that operates the rear HVAC and seat heating.
Conclusion
Being a sports car, it is astonishing to digest the fact that the offspring has a hybrid technology too. This car will blow the market and give tough competition to its rivals. Stay tuned to Auto Tech Portal for more automobile-related content.
Also checkout 2023 Lexus RX | Specs, Review, Performance & Pricing