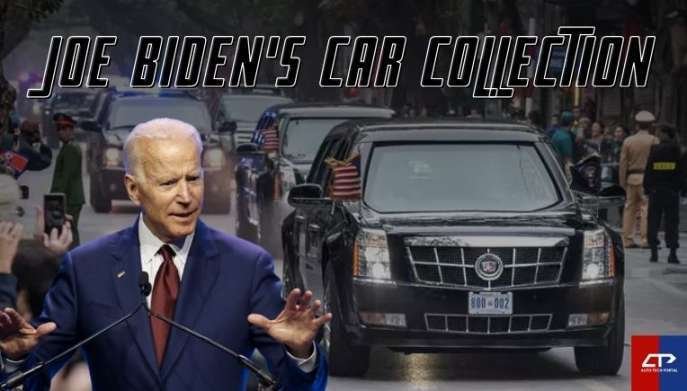 Joseph Robinette Biden Jr. is an American politician who is the 46th and current president of the United States. We wanted to look at Joe Biden's car collection and learn why the official state vehicle is the most guarded in the world as the 46th President of the United States, Joe Biden, was sworn into office. 
As his father oversaw a car dealership in Delaware for 34 years, Biden grew up surrounded by automobiles. Although the dealership primarily sold Chrysler vehicles, it briefly managed Ford business operations. Young Joe was allowed to drive some of the cars in the garage by his father, probably where his love of automobiles began.
| | |
| --- | --- |
| Joe Biden's Cars | Price (USD) |
| 1951 Studebaker Champion  | $20,000 |
| 1952 Plymouth Cranbrook Convertible  | Priceless |
| Mercedes-Benz 190SL  | Priceless |
| 1967 Corvette Stingray  | Priceless |
| The Beast  | $1.5 million |
Joe Biden's Car Collection
1951 Studebaker Champion
1951 Studebaker Champion was Joe Biden's first automobile. Some of the first automobiles built after World War II included this model and others from the Studebaker assembly line. Due to the vehicle's distinctive grille design, this vehicle was referred to as the "Bullet-Nose Car" and has a 2.8-litre engine that produces 85 horsepower. This vehicle was a favourite among many American car enthusiasts after the war and was valued at around $20,000 (£14,790).
1952 Plymouth Cranbrook Convertible – Joe Biden's Car Collection
A 1952 Plymouth Cranbrook Convertible painted in candy-apple red served as Biden's second vehicle. This vintage vehicle had a split windshield and a six-cylinder, 97-horsepower flathead engine. This cruiser was quite a performer back in the 1950s. This is unquestionably a classic today!
Mercedes-Benz 190SL
Undoubtedly, Biden's collection of cars grew as he aged, and the Mercedes-Benz 190SL was the latest addition. A 1.9 L straight-four SOHC engine with 104 horsepower powers this two-door luxury roadster. Super Leicht is denoted by the letter "SL" in the name. Only the best Mercedes models have worn the SL moniker, considered a badge of honour. This indicates a more opulent, swifter, and all-around superior model from Mercedes. This vehicle has grown to be a true classic over the years, and for a good reason!
1967 Corvette Stingray – Joe Biden's Car Collection
The car that holds a special place in Biden's heart and is still in his garage today is a magnificent Goodwood-Green 1967 Chevrolet Corvette Stingray. His father gave him this vintage as a wedding gift in August 1967; it was the final 1967 C2 Corvette model. It has a tasteful finish and exudes vintage charm. Joe's favourite engine is this classic, which has a 327 cubic inch V8 guzzler that produces a whopping 350 horsepower and can accelerate from 0 to 60 mph in just 5.8 seconds. This motor is also very sentimental to Joe.
The Secret Service won't let any of us drive it, Biden said to Car & Drive when he was vice president. I'm not permitted to operate any vehicles. In 2016, Biden received approval from the Secret Service to use it for a particular Jay Leno's Garage episode. But since the Secret Service forbids the Commander in Chief to drive, the Stingray will remain in the garage for a while longer. According to CNBC and other reports, a former president is not permitted to operate a vehicle on public roads once their term is over, including after Biden's.
American President's Car – The Beast 
According to official records, Joe Biden will now be driven around for his safety as the 46th President of the United States. His new presidential ride will likely be "The Beast," the official state car designed for former President Donald Trump. This four-wheeled vehicle may be the safest automobile, thanks to its five layers of bulletproof glass and five-inch military-grade tyres. Explosion-prevention foam that can withstand a direct RPG hit covers the doors and fuel tank. The car's interior has its supply of oxygen and a panic button.
Additionally, it has a satellite phone in the President's chair with a direct line to the Pentagon and the Vice President. There are hidden cameras and night vision, a communications centre, a GPS system, and a tracking system on board. The car's boot keeps a fire suppression system, tear gas, and smoke-screen dispensers. Rumour has it that the President's blood type is stored in the boot if he needs a blood transfusion.
To ensure the well-being of the President, the Chauffeur who operates the official state vehicle must have received training from the US Secret Service. The driver must be capable of handling even the most challenging traffic situations, such as escape, evasion, and even a 180-degree "J-Turn."
This automobile is a distinctive Cadillac limousine with an estimated value of $1.5 million (£1.1 million).
Having a high end post this man also has a high end car collection. Let's wait and watch which next car the U.S. President adds to his collection. Stay tuned to Auto Tech Portal for more automobile related content. 
Also checkout Dwayne Johnson Car Collection – The Rock's Cars 2022.